*The El Paso County Regional Business Relief Fund is now closed.
We're excited to have been selected to partner with El Paso County for the new El Paso County Regional Business Relief Fund through which, small businesses and nonprofit organizations located within the county can apply for COVID-19 grant assistance up to $20,000.
El Paso County has chosen to open a competitive grant application process for this multi-million dollar fund as part of their Response, Recovery, Resiliency efforts. The grant assistance will assist small businesses and nonprofits most in need with their business-related costs incurred due to the COVID-19 economic disruption.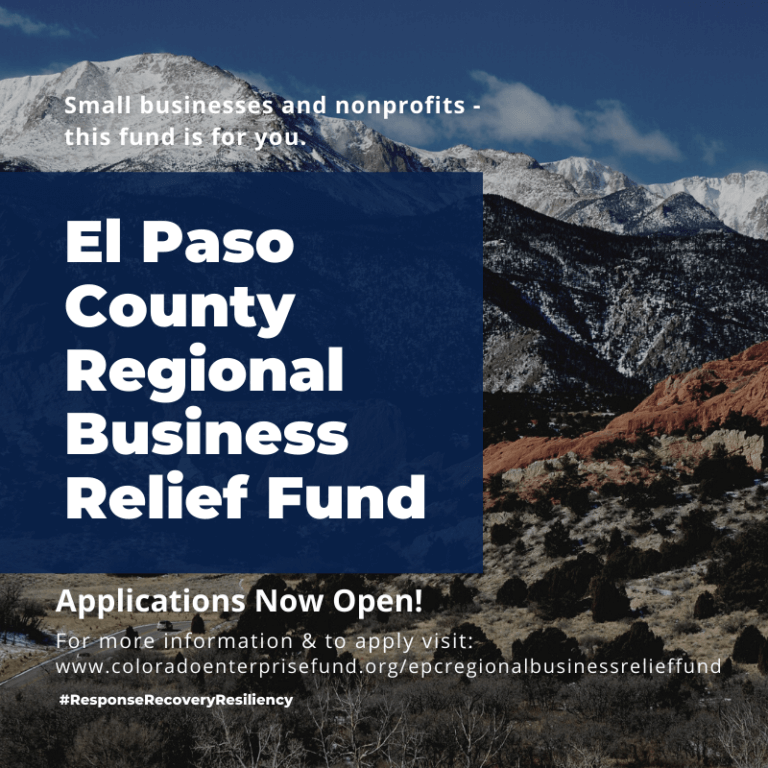 Grant Details & Eligibility:
Grant amounts up to $20,000 that do NOT need to be repaid
Small businesses/nonprofits must have 500 employees or less, part-time workers included
Eligible grant uses include business-related costs incurred due to the COVID-19 economic disruption like:

Rent/mortgage/utility payments, employee payroll, accounts payable and other fixed debt costs, personal protection equipment (PPE), and other
NONPROFITS: Grant funds may only be used for business operations and not direct client services.
Please Note: Grant funds are not to be used for any payment of taxes or tax debt.
The application period for this invaluable resource is open from August 12th at 8:00 AM MST – September 7th, 2020 at 5:00 PM MST.
Upon the closure of the application period, CEF will provide scoring results to the El Paso County Economic Development Oversight Committee who will then evaluate the scores to determine the grantees and amount of grant awards, as well as administer the distribution of funds via check.
Please be sure to read the comprehensive list of FAQs on the application process and more below.


View Our Informational Webinar Recordings in English and Spanish:
Special thanks to the Pikes Peak SBDC for hosting these webinars.
Check out the buzz around the El Paso County Regional Business Relief Fund:
KRDO: El Paso County offers businesses up to $20,000 in grant money
The Colorado Springs Business Journal: County allocates CARES Act funds to small business, nonprofits
Colorado Springs Indy: Funds available to small businesses, nonprofits for pandemic relief
Questions on Eligibility, Applying, or Something Else? Contact:
Cory Arcarese, Community Lending Advisor
epcgrant@coloradoenterprisefund.org
Main: 303-860-0242

General FAQs