START
A former bank executive from Argentina found her passion and the American Dream: making savory gourmet empanadas for new diners to enjoy.
Like many immigrants seeking a better life, Maria Empanada owner Lorena Cantarovici came to Denver in 2000 and opened her first storefront in Lakewood in 2011. "I wasn't happy working in a corporate environment, and wanted to do something different," she said in a Westword interview, "so I started making empanadas in my garage – to make ends meet. Before I knew it, people started ordering them from me – a dozen here, three dozen there, and it just kept growing."
GROW
In 2014, after approaching several banks to finance a move to a bigger space, a US Bank lender referred Lorena to Colorado Enterprise Fund (CEF) for her first loan which helped her grow from a small-scale caterer to the owner of an award-winning Zagat-rated restaurant now recognized as "One of the 12 Hottest Bakeries in the U.S." Her larger, flagship location on South Broadway reflects the warmth and charm of her homeland and personality, and allows Lorena to share her culture and cuisine with more people.
"Without the help of CEF, we couldn't have expanded to a second larger location with the necessary equipment and personnel to succeed," she said.
CEF also connected Lorena to the Goldman Sachs 10,000 Small Businesses national training program to find ways to strategically expand her business model which she did between 2016 and 2018 – securing two more prime retail locations in the Denver Tech Center and at Stanley Marketplace, respectively – qualifying for traditional bank and CEF loans in the process. "I couldn't have become bankable without CEF. Their working capital helped us grow into a viable enterprise."
During her rapid restaurant expansion, Lorena encountered the need for new employees and demand for decent wages which she raised for her bilingual staff. She also consulted with CEF's Business Acceleration Services (BAS) team to refine her employee scheduling, performance review and food safety procedures relative to OSHA.
THRIVE
Lorena has been recognized nationally for her entrepreneurial success. In 2017, she was named the "Small Business Person of the Year" by the SBA's Colorado District office. Her business was also ranked as "One of 8 Breakout Brands" by the Nation's Restaurant News and included among the "Top 50 Colorado Companies to Watch." Featured on the Food Network's Diners, Drive-Ins & Dives program, you can also find Maria Empanada listed as one of the 10 best restaurants on the USA Today 10Best.com website.
More recently, Lorena received a multimillion dollar investment from the Colorado Impact Fund which allowed her to scale her production by building a new industrial-sized kitchen to support future growth, and expand her retail presence to a fourth location in Denver's popular LoDo district.
"Just like it happened to me," Lorena remarked, "CEF is helping hundreds of new businesses create thousands of new jobs, which helps communities in our state to thrive."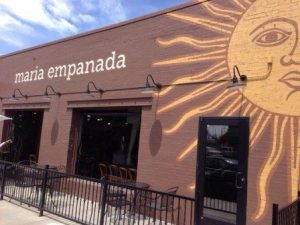 .